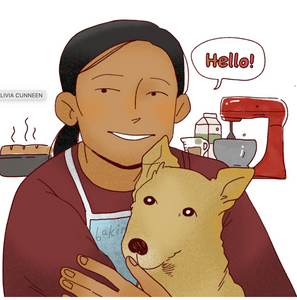 OLIVIA CUNNEEN
Regular price $30.00 Sale
College Student

School (College) Double Major in Political Science and Sociology with a Minor in Geography (Urban Systems) at McGill University, Montreal, QC, Canada  

(High School) New Explorations into Science Technology and Math (New York, NY); High School Diploma (2019) with CGPA: 4.0 / 4.0 
- Awards and Honors: Certificate of Excellence administered by the Manhattan Borough President, Principal's 
- Honor Roll, Academic Achievement Award for Advanced Placement Psychology, Academic Achievement
- Award for Calculus Applications, National Honor Society

Strength as a tutor

Attention to detail 

Strive to make individual connections with students

Finds new and unique ways to explain concepts 
3 adjectives that best describe you

Thorough 

Positive 

Attentive

Extra curricular activities

Hut-to-hut hiking 

Track Team 

National Honor Society 

WE Club (Volunteer Service) 

Debate Club 

Peer Leaders 

Literacy Leaders (taught students - K-5 - in one-on-one sessions and in class sessions about spelling, reading, and writing)
Scheduling your Class: 
* Sign up for one session (as a trial): You can directly sign up for one session as a trial on our website. Or you can also skip the trial class. After your payment is made, our admin will send you a confirmation email that connects you and your tutor. After that  your tutor will send you a greeting email to schedule a class day/time with you and get ready for your lesson. 
* Sign up for one unit (8 sessions): If you confirm that you would like to sign up for one unit (=8 sessions), our admin will send you an invoice and a confirmation email that connects you and your tutor.  Your tutor will send you a welcoming email. 
Olivia's Availability 
Time Zone: EST
Available: 


Flexible in the summer (weekdays and weekends)

Fall and after schedule: TBD
Available Tutoring:  

Special Units
Cooking/Baking for ESL students 

Open to students of all ages; students don't have to cook in class. 

You will be welcomed into my kitchen as I cook/bake a dish and you will advance your conversational english skills as we talk and ask questions and learn about cooking/baking.

Lesson Goals: 

Learn to converse in english easier in day-to-day interactions 

Learn to express yourself e.g., your likes and dislikes, solving problems/creating solutions

Building up vocabulary concerning food culture, measurements, instructional, transitional phrases; Break down recipes into simple steps 

Assist with fluency in English 

Examples: 

Cooking 

Fried rice 

Spinach cheese egg wraps 

Spaghetti 

Pesto gnocchi 

Burgers

Baking 

Lemon squares 

Snickerdoodles 

Scones

Chocolate chip cookies 
Professional Writing Work / Styling

- I can provide expertise in wording and organizing resumes, emails, and cover letters. 

Learn appropriate vocabulary 

Learn structure / organization 

Learning to…

express yourself (ex. Writing about your experience in you resume)

socialize and make friends (ex. You just moved to a new neighborhood and you want to meet new people) 

express concerns through writing

ask for help (ex. Requesting services from a company)
Regular Units
English for School Age Students 

Reading comprehension 

Grammar 

Writing 

Creative writing 

Essay writing 

Academic writing (paragraph structuring and organization)

State test / AP writing structure 
Math (Grades:

K-10) - My lessons can help understand questions and word problems and eventually teach students to translate mathematical terms into their own words to learn problem solving.

I specialize in breaking down algebra and explaining topics such as solving inequalities and graphing functions for students who struggle with grasping these concepts. I can help put word problems into more basic terms that they can use to better understand what the question is asking and help them to translate the problem for themselves independently.
Basic Physics

(High School) - I am confident in teaching Newton's Laws of motion, the relationship between mass, force, and weight, and the different types of energy.

Heat 

Waves 

Gravity 

Motion 

Forces 

Regents Physics Exam 

Understanding the Reference Sheet 


Cancellation and Refund: 
You can cancel the classes any time. The cancellation should be made in advance in writing. The remaining untaught classes after the cancellation notification will be refunded.  

If you unable to attend a class you booked, our cancellation policy will be applied. 

You can cancel a class 24 hours before the start of the scheduled class without penalty. 

If you cancel it within 24 hours of the start time, there is a late cancellation fee ($10). 

If you miss a class without canceling ahead of time,

​ the class will be counted as an absence, and there will be no refunds or rescheduling (100% class fee for the session will be applied) because the tutor's hour was already taken.