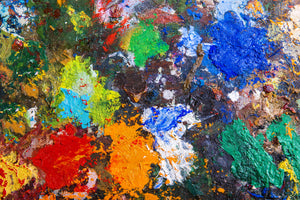 MULTISENSORY ONLINE: Grades K-1
Regular price $300.00 Sale
MAKE YOUR LITTLE ONE'S SUMMER FUN & HANDS-ON!  
Scribble Art Workshop will be teaching: 
Time: MWF, 1PM-2PM (1 hour/session) = 4-5PM EST
Online
Unit 1: starting June 8, 2020 
Unit 2: starting July 6, 2020 
10 sessions /unit ("Mommy and Me" or "Parent and me") 
Open with 3 groups (1:3 group) 
Different material each session 
1:1 meeting available upon request (additional fee) 
Lesson Structure 
[10min] Greeting
[20min] Fun story time
[30min] Messy arts & crafts for storytelling
Class Purchase: Purchase a bundle (10 sessions) and submit your application packet (below) to reserve your unit. Each day will be a different project and theme. 

Tuition Bundle (rate: $30/session)
10 tickets: $300 ($30/session) 
Refund Policy
Application Fee ($50) is non-refundable and will be included in the total tuition.
If you cancel your registration before the first lesson, you will get a full refund, but the application fee will be excluded.
You can cancel your class any time and get refund for the remaining classes. You must notify your cancellation by email in advance. If you cancel in the middle of the program, you will receive the refund for 50% of the remaining classes after the cancellation email.
If you can't attend a class, you should notify us 24 hours in advance before the class begins. You can reschedule the class.
If you cancel the class within 24 hours before the class, there will a fee ($10) for the late cancellation.
No refund when your child is absent without cancelling
No make-up policy
Registration:
1) Add your desired class product to your cart
2) Make a payment
3) Class application link and more information will be sent by email