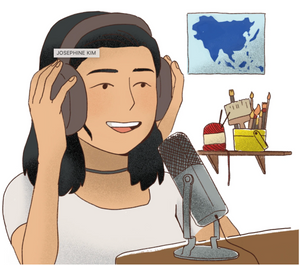 JOSEPHINE KIM
Regular price $33.00 $35.00 Sale
University Tutor
School: Completed B.A. History in Wellesley College, Massachusetts, 2020
Strength as a tutor: 

Multicultural Perspective:

As an American Korean who was raised on both coasts of the U.S., I grew up passing through a variety of communities (or lack thereof). However, my global adventures paired with my studies at Wellesley and Dartmouth College [History major, '20] forever changed me. The "mix-and-mash" of colorful people and spaces I encountered over recent years have tested and transformed my ideas of what it means to belong and contribute to something beyond our own selves. 

 
Unique Teaching Experience:

Over the past 9 years,

I have been privileged to teach grades 3-12 in Mexico, China, Taiwan, and my local neighborhood. [Past subjects: theatre, mixed martial arts, English, and arts and craft].

Passionate about Interdisciplinary Thinking:

Growing up without television, I became fond of books, fine art, music, and playing sports with my friends and siblings. I believe a good education encourages every individual to combine

analytical

skills with

artistic

expressions and serve their local communities. 

3 adjectives that best describes you

Extra-curricular activities 

When I was in college, I enjoyed traveling and competing with my Varsity Track & Field team. Nowadays, I lift or surf with my siblings. 

Especially in quarantine, I appreciate making music with friends and studying languages.
Scheduling your Class: 
* Sign up for one session (as a trial): You can directly sign up for one session as a trial on our website. Or you can also skip the trial class. After your payment is made, our admin will send you a confirmation email that connects you and your tutor. After that  your tutor will send you a greeting email to schedule a class day/time with you and get ready for your lesson. 
* Sign up for one unit (8 sessions): If you confirm that you would like to sign up for one unit (=8 sessions), our admin will send you an invoice and a confirmation email that connects you and your tutor.  Your tutor will send you a welcoming email. 
Josephine's Availability: 
Time Zone: EST

Available Time: Availability during school breaks. Please email to confirm. 
Students: Elementary, Middle, & High School
Available Tutoring: 
Class 1: HISTORY

:

Asian American Narratives 

Keywords: high school, history, humanities, asian american, mixed media, art, activism, narrative, project-based learning, the art of storytelling; Josephine's HISTORY Class Schedule
Class 2: ART AND BEYOND: Explore creativity in yourself and the world 

Keywords: elementary, middle school, ESL-friendly, English immersion, creative, project-based learning, history, mixed media, fine arts, music, humanities; Josephine's CREATIVE ARTS Class Schedule
Class 3:ACTIVE & SMART: How to eat, work, play, rest,and be well

Key words: wellness, well-being, fitness/sports, mental health, nutrition/food science, technology, social media, student lifestyle, health awareness; Josephine's WELLNESS Class Schedule 
Cancellation and Refund: 
You can cancel the classes any time. The cancellation should be made in advance in writing. The remaining untaught classes after the cancellation notification will be refunded.  

If you unable to attend a class you booked, our cancellation policy will be applied. 

You can cancel a class 24 hours before the start of the scheduled class without penalty. 

If you cancel it within 24 hours of the start time, there is a late cancellation fee ($10). 

If you miss a class without canceling ahead of time,

​ the class will be counted as an absence, and there will be no refunds or rescheduling (100% class fee for the session will be applied) because the tutor's hour was already taken.